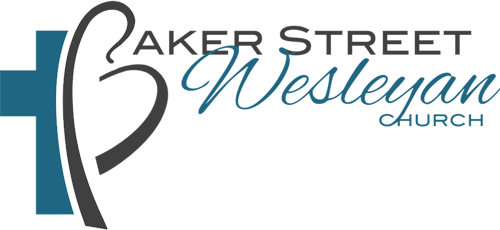 Loving God, Loving People,
Serving Both
MISSION STATEMENT
Loving God. Loving people. Serving both.
VISION
Baker Street Wesleyan Church is a body of Christ-followers who are clay in the Master's hand.
The people are so tender to the Holy Spirit of God that transformation is continually taking place.
Every day, people are turning to Christ for salvation and healing.
Every day, people are surrendering to the Lordship of Jesus Christ and giving themselves in full measure to Him.
The fragrance of holiness is so heavy that people are walking in off the streets to find Jesus Christ!
CORE VALUES
Exalting Jesus Christ
"And I, if I am lifted up from the earth, will draw all men to Myself."
John 12:32
Unconditional, Fearless Love
We love, because He first loved us.
1 John 4:19
Simple, Extravagant Faith
But the centurion said, "Lord, I am not worthy for You to come under my roof, but just say the word, and my servant will be healed. For I also am a man under authority, with soldiers under me; and I say to this one, 'Go!' and he goes, and to another, 'Come!' and he comes, and to my slave, 'Do this!' and he does it." Now when Jesus heard this, He marveled and said to those who were following, "Truly I say to you, I have not found such great faith with anyone in Israel."
Matthew 8:8-10
Biblical Truth & Authority
Be diligent to present yourself approved to God as a workman who does not need to be ashamed, accurately handling the word of truth.
2 Timothy 2:15
Unity in the Holy Spirit
"…that they may all be one; even as you, Father, are in Me and I in You, that they also may be in Us, so that the world may believe that You sent Me. The glory which You have given Me I have given to them, that they may be one, just as We are one; I in them and You in Me, that they may be perfected in unity, so that the world may know that You sent Me, and loved them, even as You have loved me."
John 17:21-23
Redemptive Community
Now may our God and Father Himself and Jesus our Lord direct our way to you; and may the Lord cause you to increase and abound in love for one another, and for all people, just as we also do for you; so that he may establish your hearts without blame in holiness before our God and Father at the coming of our Lord Jesus with all His saints.
1 Thessalonians 3:11-13
Making Disciples
And Jesus came up and spoke to them, saying, "All authority has been given to Me in heaven and on earth. Go therefore and make disciples of all the nations, baptizing them in the name of the Father and the Son and the Holy Spirit, teaching them to observe all that I commanded you; and lo, I am with you always, even to the end of the age."
Matthew 28:18-20
Serving the World
"For even the Son of Man did not come to be served, but to serve, and to give His life a ransom for many."
Mark 10:45
Obedient Risk
And without faith it is impossible to please Him, for He who comes to God must believe that he is and that He is a rewarder of those who seek Him.
Hebrews 11:6